Name: Marina Sandell
Age: 48
From: Hull
Course: Hull Returneeship 12/10/2016 – 31/10/2016
Marina was enrolled onto our Hull Returneeship after being intrig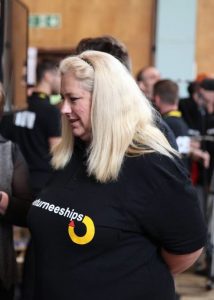 ued by what the course had to offer, she took on a mentor role within the group and had an excellent attitude throughout the whole time she was with us. We asked Marina to give us some feedback on the course and here is what she had to say;
"I've really enjoyed being on this Release Potential course. I was a bit dubious at first at how it could help me but I have realised as time gone on that I can use just about every experience in interview questions and we did do some interview techniques which was useful.
We've done some digital editing which I really enjoyed, photography, things like that build up your confidence even if you think I'm not going to use it in my job you have been given a task that you never knew anything about beforehand and you have been able to learn it, do it, to a very good quality. So, you know in a job if you are given a task you have never done before you can have the confidence to actually do it! Whilst completing it do a very high quality. That's what this course has given me the confidence to know that if I'm given a task that I don't know anything about I'm going to learn from it, I'm going to improve and I can always ask for help so I don't have to be nervous about it.
Meeting other people from all walks of life, their different circumstances, how they do their job searching and how they handle interview questions. So, meeting people is the important thing I believe as well as everyone is in the same boat no matter what life experiences or previous jobs you have had in the past, you can help each other."
After completing the course her work experience at Foxy Rentals went well and Marina said "It gave her the confidence needed to believe in herself to get back into work". Marina is now working over 16 hours in Herons Frozen Foods.