Chris has had a long-varied career, having served in the Royal Engineers, working in heavy industry and then as a taxi driver. Following additional restrictions being introduced in the taxi industry, he found himself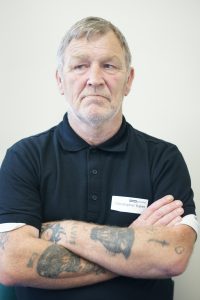 out of work, and due to some health issues, he was unable to return to his previous line of work.
Having been on a number of courses previously, Chris was concerned about the amount of written work that may be required, however once he got there he really enjoyed the group activities and despite struggling with spelling at first, with support and encouragement from staff and fellow learners, he settled into the classroom and achieved all 3 qualifications.
Chris learned how to use filming equipment and what goes into making a TV programme. Chris' confidence has grown despite concerns over his spelling and
grammar identified on the course. He was given support throughout and learned how to break words down into sections and to use phonetics to help with searching for words in the dictionary. The encouragement from tutors and other learners helped him and he was able to complete the course.
Chris is now able to sell himself more at interviews and has passed on his interview skills to his daughter. Chris is due to start as a car valeter in middle of January 2020. Absolute fantastic news!