Filtering out opportunities
When Karen moved to Durham from the south of England, she did not expect to find herself unemployed as she had always worked. With a strong background in roles involving customer service for the council, Co-op, an electrician company and call centre, Karen intially found a temporary job at Barclays Bank. However, when this came to an end, Karen struggled to find further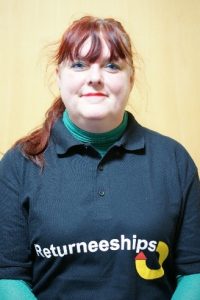 work due to her lack of transport as she does not drive. Public transport was proving to be unreliable and expensive.
Karen also felt her age was becoming a barrier into employment. After five months of unemployment, Karen's work coach recommended the Returneeship. Although Karen
had some reservations as she thought it would be the same as other employability courses, she was willing to give it a go.
On the first day, Karen felt a little apprehensive when she first saw the equipment but watching the video of past learners to introduce the project made her feel at ease. Karen took on the role of a photographer and enjoyed working as part of a group and soon realised it different to anything else she had tried before. Over the course including the classroom element, she found the staff very supportive and Karen says that "my confidence and courage were built up". There was the opportunity to practise interview skills and Karen started to feel that she could apply for roles that she had not done before by looking at her transferable skills.
Karen is now working full-time at Walker Filtration in Washington and hopes to stay there until her eventual retirement. After her very positive experience with the Returneeship, Karen adds "I would like to say to anyone thinking about doing the Returneeship, to go for it as they will definitely benefit from it!"