A sound change
Mark had worked hard since leaving school in Berwick upon Tweed, ultimately securing a good job in management in the retail sector. At this point in time, Mark would never have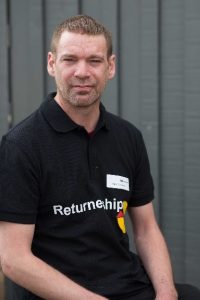 imagined that he would find himself unemployed, struggling to find work. Subsequently, over a period of time, Mark became alcohol dependent, initially hiding the problem as a functional alcoholic. Eventually, everything came to a head and he made the brave decision to enter rehab. On a personal level, with treatment, his quality of life improved. On a professional level, on leaving rehab, Mark found that he could not find work in a town where everyone knew his background and he lost his confidence.
During a visit to Berwick upon Tweed job centre to sign on, he met a Release Potential representative who explained what Mark could get out of the course. After being unemployed for six months, Mark decided that he did not have anything to lose but potentially a lot to gain so he signed up. That is not to say that Mark was not nervous as he suffered from anxiety and was not sure exactly what to expect. However, the relaxed and supportive atmosphere from the start of the course put him at ease and when the project was revealed, he volunteered to be a sound engineer.
Part of the filming meant that Mark led the team due to his knowledge of the local area which built his confidence. He liked that there were a variety of roles, so he was able to learn about the strengths of other members of the group and that people did not have to do things they were uncomfortable with. Once in the classroom, Mark found that the tutor was very supportive.
By the end of the course, Mark's confidence was significantly boosted, and he had made friends, who he has remained in touch with. He no longer felt like a recluse and had been coaxed out of his shell. The job centre called to say that a local company was recruiting, and would Mark be interested in an interview. Mark jumped at the chance and was honest at the interview about the personal difficulties he had experienced and overcome.
This time though he felt more confident in himself and what he could offer. On the day of the Returneeship reunion, the company rang and Mark was offered a job. In the weeks since, he has already been promoted within the factory and is feeling optimistic for the future