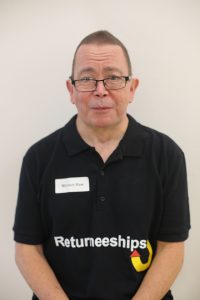 Michael has previously worked in the hospitality industry including casino's and bars which he enjoyed. In 2018 he had a health scare and became unemployed. Going through this hard time knocked his confidence.
Michael heard about the Returneeship course at the job centre when he seen one of our leaflets, he put himself forward for the course in September 2019. Michael really wanted to gain his confidence back and get some help to get back into work, He was extremely nervous about going on the course but from day one his confidence grew. Michael took part in the egg challenge which  he thought was fun, he also edited parts of the show which is fantastic as before the course he didnt get on well with IT.
Michael has advised he has learnt loads from the course, from gaining his confidence back, how to present himself, how to approach interviews, customer care, IT – using computers, sending emails, Interacting with other people & groups of peope.The staff were "Really Great". In summing up the course, Michael said "I would highly recommend this course to people, It will help change your life." Michael is really happy with securing a job with his new found confidence and is working at B+M in Bradford. Such Amazing News!