Neil worked in the care sector for over 8 years before becoming unemployed for approximately 6 months. His job coach shared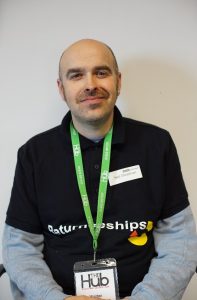 information about the Returneeship course and enrolled onto the Walsall course that started October 2019. Neil said "the course was really fun and helped me improve my outlook on getting help and focussed getting back into employment." Everyone was so friendly and was able to gain three new qualifications and new friendships from completing the course. Following this course Neil gained full time employment in February 2020 as a Care Assistant at Alpha Care in Great Whurley. He is so pleased to be back working in the care sector as it is so rewarding.
A couple of weeks ago James, the tutor from the Returneeship course gave me a call to tell me about the current distance learning courses they are offering. I am working full time doing different shifts however Release Potential have really worked around this and adapted things so I have been able to work and fit in daily sessions in order for me to gain more qualifications. At the beginning of the course Neil said "he found it a little daunting, due to been new to the whole online platform. I had a few technical difficulties, but these were resolved quickly with the support of my tutor. "The sessions have been great and have been able to fit around my shifts. I think the Video Conferencing technology is set up well and I think it will be positive. Thanks to this modified way of learning, I have been able to gain my Level 2 Certificate in Customer Service Skills."
I am really pleased that my job centre job coach shared the information regarding the Returneeship course last year, as this means I am now developing myself with further qualifications with Release Po-tential currently on the Distance Learning course. I am looking forward to starting the Level 2 Certificate Equality and Diversity next.