A career to care about;
As was often the case in the past, after leaving school, Paul followed in the family footsteps into working on building sites and factories without questioning whether it was really something he wanted to do.
Despite not always enjoying it, he did this for over 20 years to pay the bills while raising a family. When he sustained a head injury outside of work, he was then put on medication. It was only years later that he found out he should have never been put on that particular medication. This medication affected his personality and ability to work and he was then laid off by the company he had b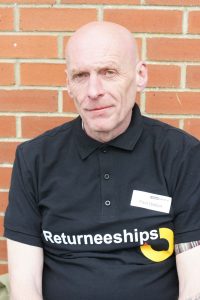 een working for. This led to him getting into debt and his marriage breaking down. With regular visits to the hospital he was unable to find another job and it was not for another 4 years, until the error was realised, that he was taken off the medication.
Finally feeling physically better, Paul hated not doing anything and it was during a visit to the job centre that the Returneeship course was suggested to him. His confidence had been knocked and he had become isolated. Yet the course offered the chance of getting out and interacting with other people as well as gaining more knowledge about different subjects such as IT, all of which appealed to Paul.
On the first day of the Crook Returneeship, Paul acknowledges that he felt a bit nervous as he thought he would not know anyone. However, once through the door he recognised some faces who he reconnected with and quickly made friends with the rest of the group, "having a good laugh" in the process which boosted his morale and mood. During the project, Paul became a photographer as he thought he would enjoy the practical aspect of the role. This role allowed him to bond with other members of the team as well as the opportunity to explore his local area which he thought had changed little over the years. He was to be surprised as new places were discovered and his eyes were opened to how much the locality had developed. There was a renewed pride in his heritage which was captured in the photographs he took.
Before Paul knew it, the project was completed and he was in the classroom working towards qualifications. Although a bit wary about the classroom element as Paul thought he would just be talked at the whole time, these fears soon dissipated when everyone was encouraged to interact with others and contribute their ideas. In Paul's own words "the staff were canny…they would sit and talk to you as a human". This positive and personable approach boosted Paul's confidence and he started to consider other career options.
Paul's parents had always impressed on him the importance of caring for others, not just through their words but through their actions – his mother had worked as a home help and in his spare time his father had always helped others in the community. Paul has inherited this caring nature and now from the Returneeship he had faith in his abilities, so when the Returneeship course finished he decided to go on another course focused on entering the care sector. This led to an offer of a part-time position with Premier Community Care in Bishop Auckland. He now loves his work as a care assistant supporting individuals in the community. Paul says that he is "very grateful to the Returneeship for the difference it has made to my life and thank you again to all at Release Potential".