Before Ruth became unemployed she enjoyed her job working in the cleaning industry within schools, businesses and office blocks. In February 2019 Ruth became unemployed due to health reasons, in this time she became depressed but at the time wasn't aware it was depression. As a result of this she lost all her confidence.
I heard about the Returneeship course via my work coach at the job centre and she put me forward. It all happened so fast f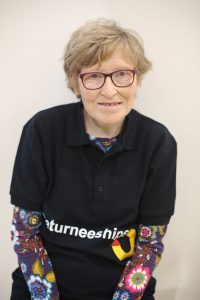 rom being put forward to starting the course I didn't really have anytime to think about what is was going to be like. On the first day I was very nervous but I got involved with the show by helping with photography which I found fun as this is something I have never done, it was new.
The course has helped me gain back my confidence & I have tackled my depression. The staff were "great and so helpful", They showed me that I could do it and gave me the ability to apply for jobs again. In summing up the course, Ruth said "The course really helped me a lot, I understand things better now, I ask questions & I have confidence" Ruth is delighted to have secured a job as a part time cleaner with Virgin Media. Fantastic News!