Calculating the benefits of the Returneeship
Saireen had a strong background in business, finance, funding, training and community development. In addition, Saireen had gained qualifications in AAT and BTEC Accountancy Level 4, IAG level 2, Funding and Fundraising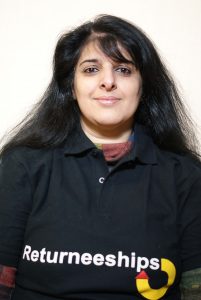 Level 3 and Advanced Training Skills. Despite this, Saireen found herself mostly employed on temporary contracts and when the final contract ended after a backlog of work was completed, she found herself unemployed. Although Saireen was only unemployed for 3 months, the experience knocked her confidence, leaving her feeling demotivated and isolated.
Realising that Saireen needed to try a different approach, her work coach at Bradford job centre called and suggested that Saireen should come and speak to a tutor from Release Potential about the Returneeship programme. Saireen liked that the course was focused on helping people to regain their confidence and self-esteem, so she signed up. She also wanted to improve her CV and gain further qualifications.
Even though she knew the benefits of the course, when Saireen came to start the Bradford Returneeship she felt really low. After being shown the different roles, Saireen opted for photography, as she has a great interest in this area. On finishing the first day, Saireen felt a small amount of confidence returning which increased further after her photos were selected for the credits. Saireen enjoyed working with people from the general public, including her fellow learners as everyone cam
e from different backgrounds and were at different levels.
By the end of the classroom element of the course Saireen says that she "felt a huge boost to her confidence, self-belief and self-esteem". Not only did she feel better in herself, Saireen improved her CV, upskilled her IT knowledge, practised interview techniques and gained more understanding of legislation in the workplace. At the end of the course, Saireen applied for a role at a large, national reputable employer implementing everything she had learnt on the course and was successful in securing a permanent role. With renewed confidence, Saireen's goal for the future is to continue working in this department and she is now working towards a promotion.