Returneeship – A clear route to work
Theresa found herself out of work for a year when a litter picking contract came to an end. It was through Bulwell Jobcentre Plus that Th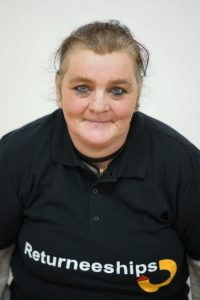 eresa heard about the Returneeship. Wanting to improve her English and maths skills as well as to get back into work, Theresa decided to do the course.

Although nervous and shy to begin with, the buoyant atmosphere meant that Theresa soon volunteered to take part in a filmed warm-up activity. After getting used to being in front of the camera, Theresa then went on to be an interviewer at The Robin Hood Experience before taking responsibility for the clapper board during the live filming of the show.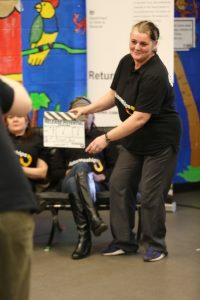 In the classroom phase, Theresa found the Release Potential tutor and support staff very supportive, particularly with her English and maths skills, "They helped me through everything." She was also able to get help with her CV and practise interview skills. While there was a lot of work involved Theresa liked that the group was able to have a laugh along the away which built rapport between the learners.
At the end of the course, Theresa went on at Jobcentre Plus sourced workplace at Morrisons which she really enjoyed.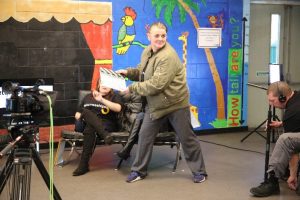 Subsequently, Theresa got an interview with Nottingham City Council and has secured full-time permanent work as a cleaner. Her tutor says that "Theresa was fully committed to the course and worked hard to improve her maths and English knowledge." So how does Theresa sum up her experience of the Returneeship? "It was brilliant, such a laugh and I'd come back and do another Release Potential course if I could!"